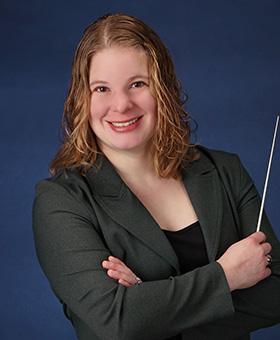 Erin Desmond
Assistant Professor of Music and University Accompanist
---
Location:
Smith Hall | Room 211D
---
Year Started: 2012
Strengths: Woo | Communication | Harmony | Consistency | Positivity
Education History: Valparaiso University (Bachelor of Music Education degree), Illinois State University (Master of Music degree)
Professional History: Previously, Before moving to South Dakota in 2010, she taught general and vocal music at Belvidere South Middle School, Belvidere, Ind., and taught vocal music at Willowcreek Middle School in Portage, Ind. She also acted aswas the Area One Representative for the Circle the State with Song Choral Festival, and was the assistant and accompanist for the Southlake Children's Choir from 2005-2007. Presently, Desmond serves as the R&S chair for Junior High/Middle School Choirs for SD-ACDA.
Areas of Expertise: She is the university's accompanist as well as conductor for the Wesleyan Bells, which she began, and teaches voice lessons and music theory.
Hobbies: Cycling, hiking, kayaking, running
Family: Clinton Desmond, husband
What do you love most about DWU?: I love our students and the family atmosphere, especially here in the music department!