Scholarships & Financial Aid
You can do this
First, we need to differentiate between sticker price and out-of-pocket cost. Since every full-time, on-campus undergraduate student receives financial assistance, your tuition price will be immediately reduced based on your academic scholarship. You may also qualify for federal or state grants and be eligible to borrow student loans to help pay your tuition, living expenses, and fees, all which reduce your out-of-pocket cost.
Academic scholarships are awarded automatically when you are accepted, so you will see an immediate decrease in your cost. If you have filed your Free Application for Federal Student Aid (FAFSA), we'll also be able to tell you your full estimated financial aid package for grants and loans.
Let us show you how affordable your college education can be at Dakota Wesleyan University.
DWU Scholarships & Grants
It's the biggest argument against going to college: "It's just so expensive!"
What you might not know is that small liberal arts colleges like Dakota Wesleyan University are often able to offer the most generous scholarships.
Guidelines:
DWU institutional scholarships, awards and grants may not exceed the cost of tuition at Dakota Wesleyan University in any given year.

Any student receiving $12,000, or more, in institutional aid is required to live on campus.

First-time freshman scholarships or awards may be increased if your GPA increases before March 1 of your senior year of high school.

Institutional scholarships are only available for full-time, degree-seeking students.
Explore your many other scholarship opportunities below. For questions on scholarships, please contact your admissions counselor.
Scholarships for Academics
If you're a first-time or transfer student who has applied and been accepted for admission, you will be automatically considered for academic scholarships. These are offered to full-time students, and most are renewable for up to 10 semesters. Usually, DWU students complete their degrees in eight semesters.

Compete at Scholarship Days! You could qualify for a $100,000 scholarship over four years. Academically successful high school seniors who display a strong talent for leadership, service, and a commitment to their faith and church are invited to participate in one of our scholarship days. You may be eligible to compete. We offer two scholarship days one in the fall and one in the spring.
Dual Credit Scholarship
If you have taken dual credit courses from Dakota Wesleyan University OR any other college, technical school, or community college you qualify for the Dual Credit Scholarship.
To be eligible:
You must enroll at DWU as a first-time, full-time freshman.

DWU Impact Scholarship
The DWU Impact Scholarship is available for eligible students who intend to enrich our campus community through their academic and leadership gifts. If you don't plan to play a sport or participate in Performing Arts, this might be the scholarship for you. This scholarship is unique and can't be combined with other scholarships.
Scholarships for Transfer Students
DWU Transfer Academic Award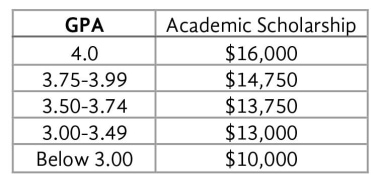 Phi Theta Kappa Award
Members of the Phi Theta Kappa Honor Society are eligible to receive $2,000 annually. Verification of Phi Theta Kappa chapter membership by a chapter adviser is required.

If you're a transfer student, your scholarship is based on your previous college GPA and other qualifications.
Scholarships for United Methodist Students
United Methodist Recognition Awards
Earn a scholarship based on your local church membership. You must be a member of the United Methodist Church for at least one year. Certification form required.
United Methodist General Board of Higher Education and Ministry and the United Methodist Higher Education Foundation Scholarships
Scholarships are funded through the United Methodist General Board of Higher Education and Ministry and the United Methodist Higher Education Foundation. Applicants must have been an active member of the United Methodist Church for at least one year. Scholarships do not automatically renew each year. For more information, visit United Methodist Higher Education Foundation website.
Scholarship for Christian Leadership
Apply for the Christian Leadership Award
If you're a high school senior, an award of up to $4,000 may be available if you demonstrate a strong commitment to youth leadership in your local church and commit to be active in student ministry at DWU. You are not required to be Methodist.
Visit the Christian Leadership Award form.
Scholarships for Athletics, Music, Theatre and Esports
Awards for both freshman and transfer students are determined by each coach or director. You should be prepared to audition or provide video to help the coach or director evaluate your performance and determine your award amount.
Interested in athletics? Complete a questionnaire to begin the recruitment process.
Sign up to audition for theatre, band, or chorus.
Apply for an esports award.
Scholarship for Digital Media & Design
Turn your love for design into a reality with the Power to Design Scholarship. High school students interested in majoring in Digital Media and Design are encouraged to apply for this unique scholarship opportunity.
Qualifications:
Must be a high school senior and plan to major in Digital Media & Design

Deadline to apply is April 1
To apply, complete the Power to Design Scholarship Form:


Scholarship for Alumni Families
The Alumni Family Scholarship is available to new undergraduate degree-seeking students whose parent(s), legal guardian(s), or grandparent(s) have graduated from Dakota Wesleyan University. Scholarships are $500 per year and are renewable for up to 10 semesters.
Let your admissions counselor know if you qualify for the Alumni Family Scholarship.
Veterans' Benefits
We are proud to honor those who have served.
Before applying for veterans' benefits complete the following steps:
Be admitted to Dakota Wesleyan University.

Have all transcripts from previous schools sent to the admissions and registrar's offices.

Declare your major degree of study with the registrar's office.

Contact your Educational Services Officer (ESO) within your military service prior to registration.

Be registered for classes in the semester you wish to receive benefits.
The veterans online application is an official U.S. Department of Veterans Affairs website that enables service members, veterans and their beneficiaries, and other designated individuals to apply for benefits.
Required Documentation
DD214 - This must be certified by the county clerk's office in the county you are residing.

Dates and locations of military training.

22-1990 - Application for educational benefits.

Notice of Basic Eligibility - only needed from National Guard members.
Enrollment Certification
Veterans who have Chapter 30 or 1606 benefits need to complete enrollment certification each month. This can be accomplished online or by phone. It is your responsibility to complete the enrollment certification.
U.S. Department of Veterans Affairs
1-888-442-4551
DWU contact information:
Financial Aid Office
Kristy Ehlebracht
Associate Director of Financial Aid
There are many opportunities for scholarships through organizations and resources beyond Dakota Wesleyan University.
Important questions to ask before
applying for a scholarship outside of DWU.
Is this scholarship legitimate?
There are a lot of scholarship scams out there and bad actors are looking to get your information. When in doubt, do your research and do not provide too much personal information, such as date of birth, social security number and credit card information. If the scholarship is legitimate and you win, you can always provide more information later.
Do I qualify for this scholarship?
If the scholarship requires a specific GPA or personal characteristic that you do not qualify for, don't spend time applying for it. Focus on scholarships you qualify for and have the best chance at receiving.
Is this scholarship a good match for me?
Prioritize applying to scholarships that align best with your personal characteristics, career goals, or educational interests.
What are the requirements?
If you feel the scholarship is a good fit for you, ask yourself if you can complete all the requirements, as well as meet the deadline, before applying.
Net

P

rice

C

alculator

Estimate Your Cost
Dakota Wesleyan University understands paying for college is an important consideration for you and your family. Below is an online net price calculator to assist you with calculating the estimated educational cost for undergraduate first-time, full-time students at DWU.
Please be advised that the calculator is for estimating purposes only and is not binding. Final eligibility for aid is subject to FAFSA completion, eligibility requirements and deadlines, and fund availability.
Use our Net Price Calculator to determine what you would likely pay to attend DWU.
Federal

and Alternative

F

unding
Applying for Federal Aid
If you are a student who is a U.S. citizen or eligible noncitizen, you can apply for federal financial aid to help with your college costs. To apply for federal financial aid, you will need to complete the Free Application for Federal Student Aid (FAFSA) each year.
Sometimes funds are limited. With that in mind, federal aid funds are disbursed on a first-come, first-served basis. In order to be considered for federal aid, complete the FAFSA at www.studentaid.gov. Dakota Wesleyan University has a priority deadline of February 1 and will award priority funds (federal work study and Supplemental Educational Opportunity Grant) on a first-come, first-serve basis to students who meet that filing date, or until funds are exhausted.
It's important to remember to put the DWU school code on your FAFSA: 003461
If you do not plan to apply for federal aid, please let us know so your financial aid offer doesn't get delayed.
Federal Funding
Dakota Wesleyan University requires all students who request federal funding to file a FAFSA. This ensures that you receive notice of all Title IV loans and grant assistance before you make the decision to apply for a private loan. For all students, the best loan options are federal loans.
DWU is required to disclose the maximum Title IV grants and loan assistance available to you:
Federal Pell Grant: $7,395

Federal SEOG Grant: up to $4,000

Federal TEACH Grant: $4,000

Federal Direct Loan: $5,500 for freshmen, $6,500 for sophomores, $7,500 for juniors/seniors, $20,500 for graduate students. Independent undergraduate students can receive an additional $4,000 as freshmen and sophomores, and $5,000 as juniors and seniors.
All students who take out federal student loans are required to participate in entrance and exit counseling. Once all federal options have been exhausted, you may want to pursue private loan options.
Federal Direct Parent PLUS Loan
Some schools may have a different process for requesting a Direct PLUS Loan or may require additional steps not covered by this application. In most cases, once you select your school, we can tell you if the school has a different process and whether you need to contact the school's financial aid office for further information.
Federal Work Study
The DWU work-study program is available if you have received a work-study award on your financial aid offer.
Purpose of the Work-Study Program
Through this program, DWU is able to provide convenient employment opportunities to students with financial need. The positions in this program also provide a great way to gain experience and knowledge to help you prepare for your future career.
Benefits of the Work-Study Program
Students who work a moderate number of hours per week on campus are proven to perform better academically. This financial aid award is not a loan you must pay back—you earn it, and you get to use it as you want. You get the convenience of working on campus, often between classes and with your fellow students.
How do I know if I am eligible for the work-study program?
If you are eligible for the work-study program, it will be on your financial aid offer. If you are uncertain about your eligibility, please contact the financial aid office at (605) 995-2656.
If you are eligible, it does not guarantee a work-study position on campus. To earn this award, you will need to secure a work-study position on campus and work an average of six hours per week.
Rights and Responsibilities
As a student at DWU, you will have certain rights, as well as certain responsibilities. You might think of your rights as what you are entitled to, and your responsibilities as your entry into the "real world" of adulthood.
Your Rights
To know what financial assistance programs are offered.

To know the deadlines for submitting applications for each of the financial assistance programs offered.

To know how financial assistance decisions are made and will be given to you.

To know how we figured out your financial need.

To know what resources (such as parental contribution, other financial assistance and assets) were considered in calculating the amount of your financial need.

To ask for an explanation of the various programs in student aid packages.

To know our policy about refunds.

To know how to pay back financial assistance.

To know how we determine satisfactory progress and what happens if that progress is not made.
Your Responsibilities
To carefully think about all the information we provide to you about our programs and performance before deciding to attend DWU.

To complete all application forms accurately and submit them on time to the correct place.

To provide correct information (if you misreport information on financial assistance application forms it is a violation of law and may be considered a criminal offense that could result in indictment under the U.S. Criminal Code).

To return all additional documentation, verification, correct and/or new information requested by either the Financial Aid Office or the agency to which applications are submitted.

To read and understand all forms that you are asked to sign.

Please ask for help if you don't understand.

To accept responsibility for all agreements signed

. Keep copies of all the forms you sign.

To do the work that you agree to when you accept a work-study program award.

To be aware of and comply with the deadlines for application or reapplication for aid.

To be aware of the school's refund procedures.

To repay immediately upon demand all financial assistance over awards or misappropriations.
Paying For Your DWU Education
We believe that higher education is an essential investment, and we do all we can to make attending DWU a financial possibility for every student who wants to come here.
Dakota Wesleyan University bills students each semester. Your statement will be sent in the summer for the fall semester and in December for the spring semester.
Your total balance for the current semester is due by the end of the second week of classes, unless a monthly payment plan has been established with the DWU business office.
Different Ways to Pay
DWU offers several convenient ways to pay your tuition.
With a Check
You can pay by check in person at the business office or mail it to:
Business Office
Dakota Wesleyan University
1200 W. University Ave.
Mitchell, SD 57301
With a Credit Card
We accept Visa, MasterCard, and Discover cards. You can pay in person at the business office or by telephone. Contact the DWU business office.
You can make a secure online payment on TigerNet. Sign in and proceed to the "Student Finances" tab.
Kerri Fahey
Accounts Receivable Specialist
ACH Payment Plan
We offer students and parents the option of ACH (automatic clearing house) to conveniently pay toward tuition accounts. We will automatically deduct your monthly payments from either a parent or student's checking/savings account or place it on a debit/credit card on the designated date each month. There is an enrollment fee of $25 per semester which must be paid when you sign the ACH agreement. However, if you enroll in the tuition financing plan before August, we will waive that fee.
If you want to enroll in the ACH plan, please complete the ACH Payment form and return it to the business office.
Dakota Wesleyan Tuition Financing Plan
If you enroll in the DWU Tuition Financing Plan, a payment is due each month and the outstanding balance at the end of each month will be charged 12% per annual interest. A $25 enrollment fee is due at the time of finalization.
Third-Party Payments
If a third party, such as your employer or the VA, will be assisting you with the payment of your balance, please notify the business office by the first week of classes.
Past Due Accounts
There is a finance charge of 1% per month on all past due accounts. If you have an unpaid account and haven't made arrangements with the business office, you will not be allowed to continue taking classes.
At DWU, students have many educational loan opportunities. Each loan type has its own criteria and benefits. Our Financial Aid office can help you figure out which funding option(s) are the best fit for you.
Private Loans
Private education loans vary by lender. You should compare the loan terms and conditions and choose the one that best fits your situation. You can compare private loans from multiple lenders using two tools that the DWU Financial Aid office provides: FASTChoice or Credible.
DWU does not endorse any of the lenders included in the links below and cannot recommend specific lenders. Students may also choose to use a loan provider that does not appear in the list of lenders included on this page.
FASTChoice
Powered by Nelnet, Inc loan guarantor and processor, FASTChoice helps you choose the right loan by presenting loan details, eligibility requirements, interest rates, loan limits and borrower benefits. FASTChoice provides comparison tools for a variety of private educational lenders previously utilized by DWU students.
Credible is a student loan comparison tool that enables students and parents to compare unbiased, personalized, and prequalified rates with no hidden fees and no impact to their credit. Credible is not a lender or a bank. The organization partners with the top student loan providers to offer a variety of competitive options. When considering a private student loan, it's important to compare rates, terms, and repayment options across multiple lenders to ensure you get a loan that fits your financial situation. Credible is free to use and your information will remain secure.
Credible is a unique multi-lender marketplace for refinancing your student loans. Our approach is centered on transparency and true personalization that allows you to compare unbiased prequalified rates in under 3 minutes. Credible's technology will not only qualify graduates at a much higher rate versus any single lender, but it also does not impact your credit score or share your private information until you select a lender offer to proceed with. Credible is 100% free!
For questions on financial aid, please contact the financial aid office.
Kristy Ehlebracht
Associate Director of Financial Aid
Mary Alexander, M.S.
Director of Financial Aid