The First Year Experience
Hello, first year students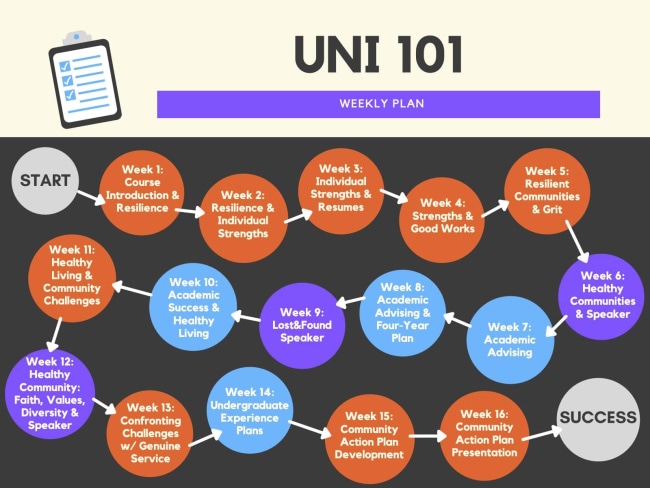 The courses will focus on life skills that will broaden your perspective and prepare you to be ethically grounded and intentional about life. Courses will include topics on resilience, individual strengths, academic advising, healthy living, genuine service and community development. You'll get to experience these courses with other first-year students, so it's a great time to meet new people on campus!
UNI 101 Self, College and Career is DWU's first-year experience course for integrating you into the campus community and helping you utilize DWU's core values of learning, leadership, faith and service. You will begin the course by identifying your strengths, practicing time-management strategies, and developing resiliency. You will then build your path to academic success and graduation by developing a college-level resumé, engaging in academic advising, developing four-year academic and co-curricular plans, attending a speaker series, and practicing how to develop and present projects for a professional audience.
Then your junior year, you will take another set of courses that prepare you for life after college.
UNI 301 Post College Success is an upper-level course designed as a junior-year seminar to support you in developing and executing a successfully transition to professional life after college. This plan includes identifying transferrable skills, adding to your professional resumé and writing individualized cover letters, acquiring networking skills, learning professional etiquette, and engaging in a mock employment interview. The purpose of the UNI 301 experience is to help you successfully transition to your first professional job or continuing education at the graduate level.
You'll notice as you take other courses on campus, that your professors will not only teach course content material, but will expose you an enriched human experience. So, when you graduate from DWU, you'll enter the world well prepared.