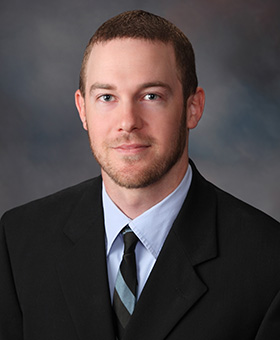 Jesse Weins
Associate Professor in the Department of Criminal Justice | Dean of the College of Leadership and Public Service
---
Department:
Criminal Justice
Location:
Smith Hall | Room 301
---
Dr. Jesse Weins, dean of the College of Leadership and Public Service and associate professor of criminal justice, joined the Dakota Wesleyan staff in 2008. He earned his Bachelor of Arts degree from Dakota Wesleyan University and a Master of Science degree from Wilmington University, and his Juris Doctor degree from the University of Nebraska College of Law-Lincoln, where he served as an executive editor of the Nebraska Law Review and a symposium issue editor of the Harvard Journal of Law and Public Policy. Weins then practiced criminal and civil litigation in a variety of state and federal courts before returning to teach at DWU.

Weins' work has appeared in more than a dozen publications, including the Tennessee Law Review, Nebraska Law Review, Michigan State University's Journal of Medicine and Law, National Survey of State Laws, and others. He currently serves on the editorial board of Contemporary Justice Review and recently co-edited a book on youth sexting from Carolina Academic Press. His work has been recognized by USA Today, a U.S. federal district court, and the Chief Justice of the Supreme Court of Wisconsin, as well as in journals like Sexualities, the Harvard Law Review, and the Harvard Review of Psychiatry. He has been interviewed by The New York Times and The Christian Science Monitor, and in 2015 he was accepted into the Fulbright Specialist program for international collaborative work in criminal law and procedure.