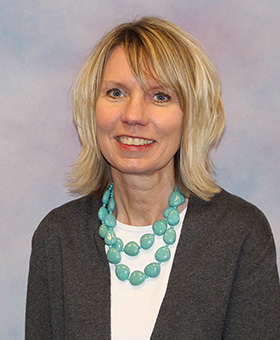 Lori Solberg
DWU Store Manager
---
Location:
McGovern Library | DWU Store
---
Year Started: 1994
Strengths: Adaptability | Learner | Fairness | Connectedness | Responsibility
Education History: South Dakota State University (BS in Retail Merchandising)
Professional History: I was an assistant merchandiser with JCPenneys before coming to Dakota Wesleyan University.
Hobbies: Spending time with family and friends, reading, traveling and yoga.
Family: Husband (John, a retired teacher from Mitchell High School), Daughter (Megan, a nursing instructor at Southeast Technical College in Sioux Falls, S.D.) and Son (Ryan, an economic specialist for Sioux Metro Growth Alliance in Sioux Falls, S.D.)
What do you love most about DWU?: I enjoy meeting people and watching students grow and develop over their four years of college and beyond.
I enjoy working at Dakota Wesleyan University and being part of the Wesleyan family.