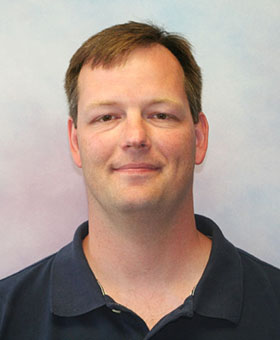 Brian Patrick
Professor of Biology
---
Location:
Corrigan Health Sciences Center | Office 208A
---
Year Started: 2009
Education History: University of Kansas (BA degree in Biology and MA degree in Systematics and Ecology), Kent State University (Ph.D.)
Areas of Expertise: Brian's research interests include: human influences on biological communities and ecosystems; biodiversity inventorying to catalog the abundance and distribution of species of the Great Plains states – particularly spiders and beetles; and recycling and waste management issues in the community and the state. As part of his interest in cataloging the biological diversity of the Great Plains states, Patrick has established the South Dakota Spider Survey (SDSS). The goals of the SDSS are: 1) to document the diversity of the spider fauna of South Dakota; 2) to document the distributions and abundances of these spider species within the state; 3) to educate students and the public about spiders and their ecological roles in the various habitats in the state of South Dakota; and 4) to establish a repository for specimens from the Great Plains states for education and research purposes. Everyone is invited to participate.
Hobbies: Dr. Patrick started a weekly podcast in January 2021 called "New Species." He talks to scientists who have recently published new species about their discoveries. They've talked about fossil alligators, orchids, frogs, hagfish, and yes, even spiders! (Check out the episode about flying tarantulas with 11 eyes that live for 20 years behind secret trap doors!) You can find his podcast "New Species" on Apple, Spotify, Google, Anchor and most other podcasting platforms.